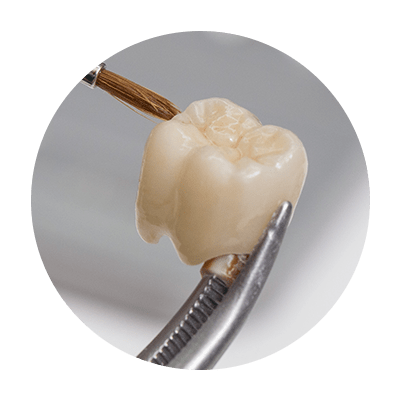 Fillings
Today, minor damage to a tooth, such as a small cavity, can be repaired through the use of a variety of fillings. They are selected strength and appearance, depending on where the damage is on the tooth. The procedure is simple and requires the decay be removed, the area cleaned and dried and then filled. Dr. Bolamperti may also make recommendations about eating and drinking for the next day or so to ensure the best results.
Crowns, Inlays and Onlays
When a larger area of the tooth is affected, Dr. Bolamperti may recommend a crown, onlay or inlay. These are made from various durable materials and designed to cover certain parts of the tooth or the entire chewing surface of the tooth. As a result, the tooth has a stronger structure for chewing.
Bridges
When teeth are missing, the remaining teeth are at risk of shifting, which can cause changes to your bite and increase your risk for problems. Bridges are custom made to help replace missing teeth, providing additional support for the remaining teeth. They can be permanent or removable.
Request Your Appointment
We look forward to having you here, whether you're a first-time patient or you already know us.
Call Us Now