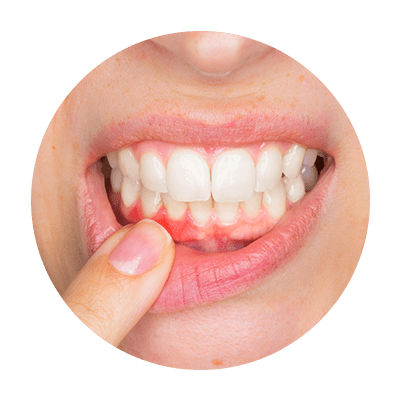 Who's at risk?
Who's at risk? People who don't see their dentist on a routine bases, who have poor dental hygiene or who eat a poor diet. Certain medicines and medical conditions can increase the chances as well. Depending on the severity, Dr. Bolamperti may recommend different treatments. The good news is that gum disease is preventable – and if it does develop, it's treatable.
At-Home Hygiene
Prevention is key! Sticking to a good at-home oral hygiene routine is vital to the longevity of natural teeth, as well as dental restoration. We recommend brushing a minimum of three times daily and flossing at least once a day. There are various techniques. The best one depends on the size and shape of your teeth. Omaha Laser Dentistry can explain the method that's best for you.
Cleaning and Plaque Removal
In addition to your at-home routine, it is important to visit Omaha Laser Dentistry for regular dental appointments. Professional teeth cleaning by a hygienist will remove any lingering plaque or tartar from hard-to-reach places you may have missed with your toothbrush. During this appointment, we will also check for any signs of decay or disease, and discuss any concerns you may have.
Deep Cleaning, Scaling and Planing
If the plaque has built up and hardened into tartar under the gums, you'll need to have a deep cleaning. As Omaha's most experienced laser dentist, Dr. Bolamperti makes optimum use of the unique laser-tissue interaction characteristics of the dual-wavelength LightWalker® laser to dramatically improve the outcomes of these laser-assisted treatments. For example: Nd:YAG provides coagulation and deep disinfection, while Er:YAG efficiently and gently removes infected scaling and roughness on the tooth and root to allow gum tissue to heal. Cooling laser treatments can also aid in your recovery.
Grafts, Surgery and Regeneration
When gum disease has resulted in serious damage to tissue, teeth and bone, more serious procedures and surgery is recommended. Dr. Bolamperti's expertise and experience using dental lasers is critical, allowing even serious surgical procedures to be performed in office – more effectively, more efficiently and often without anesthetic.
Request Your Appointment
We look forward to having you here, whether you're a first-time patient or you already know us.
Call Us Now