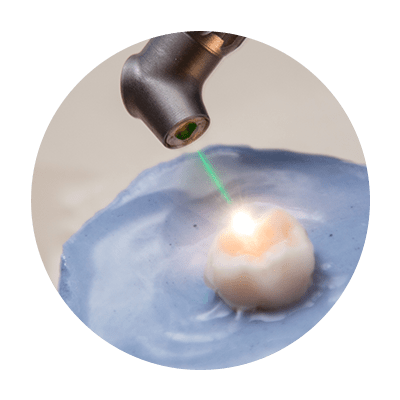 That's why Omaha Laser Dentistry provides complete dental implant treatment and care – right here in just a few visits in the office. In fact, it's one of Dr. Tony Bolamperti's specialty areas, aided greatly by his laser technique.
How Does It Work?
Unlike dentures and bridges, dental implants are permanent and even have all the parts you think of with your own teeth. A titanium post is placed into the bone socket of your missing tooth to act as a root. As the bone grows around the tooth it secures to the jaw. Then a small connector post is secured to the post and used to attach the new tooth, which is called a crown.
Do They Look Natural?
The crowns of your new implants are made from a model of your bite that Dr. Bolamperti creates by making an impression of your teeth. So, Your implant will fit perfectly – enhancing your natural smile.
How Long Does It Take?
Because dental implants replace your natural teeth and this requires surgery and healing time. Once the mold or impression is made of your bite, the affected teeth are removed and posts are implanted; the healing process can range six to 12 weeks.
How Do Lasers Help?
By using laser dentistry, Dr. Bolamperti can often accelerate the healing process with the ability to treat inflamed gums and hasten new bone growth. Using lasers also create a more comfortable experience for you and can even eliminate the need for anesthetic.
Request Your Appointment
We look forward to having you here, whether you're a first-time patient or you already know us.
Call Us Now