Here's How Lasers Work
Like other laser technology, the wavelength of the dental laser determines the intensity of the beam and how it's used. Dr. Bolamperti has several lasers he uses, depending on the patient and the procedure. From the simple to the complex, there are many uses for lasers:
Cutting soft and hard tissue more efficiently
Treating gum disease and inflammation
Treating snoring and sleep apnea
Detecting cavities
Preparing teeth for fillings, crowns and onlays
Teeth whitening
Relieving tooth sensitivity
Benefits of Laser Dentistry
There are many reasons Dr. Bolamperti chooses lasers over traditional dental techniques. For example, in a surgical procedure, lasers cut tooth, tissue or bone more efficiently, and their beams also lessen bleeding and often eliminate the need for sutures. In fact, there are many benefits to laser dentistry including:
Shorter treatment times and fewer visits
Shorter recovery and faster healing
Less pain and virtually no need for anesthesia
Safe for patients of all ages – even children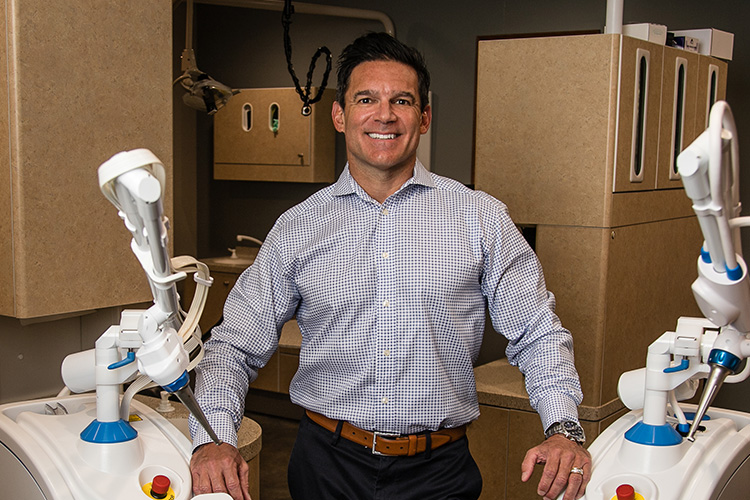 Omaha's Most Experienced Laser Dentist
There's a lot to be said for being first. Omaha Laser Dentistry continues to lead the way in the adoption and use of lasers to create a better patient experience. As dental experts, we're asked to help other dentists understand the benefits of laser dentistry as they begin to explore the advantages of this technique in their own practices. In addition, Dr. Bolamperti is often selected to take part in professional conferences and meetings to share his insights and expertise in laser dentistry.
What is the Solea® laser?
The Solea® laser is the latest addition to Omaha Laser Dentistry. It's an isotopic CO2 laser that operates at a unique wavelength (9.3 microns), producing a very narrow, intense beam of light energy. It's the first laser approved by the FDA for both hard and soft tissue. This means it can be used on teeth and gums, like you'd expect, as well as bone for more serious procedures.
Carlee's experience with the Solea® Laser
Sophie on the Solea® Laser
Request Your Appointment
We look forward to having you here, whether you're a first-time patient or you already know us.
Call Us Now