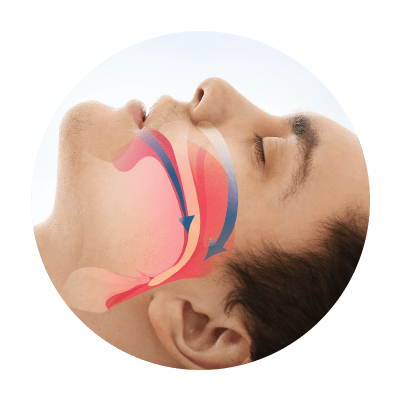 How Does NightLase® Work?
With NightLase®, Dr. Bolamperti uses the Er:YAG wavelength of the LightWalker® twin laser, along with a specially designed hand piece to warm, condition, strengthen, tighten and shrink the parapharyngeal tissues – to lessen or eliminate the snoring and sleep apnea problems. And it does so without pain, scalpels, sutures or scarring of palatal tissues that can occur with other techniques.
How Long Does It Take?
Treatment includes three or four sessions, 21 days apart. Each session is about 45 minutes.
Mandibular Advancement Device (MAD)
Another option for sleep apnea is this mouth device or MAD, which looks very much like a mouth guard that athletes use in sports. Dr. Bolamperti fits this device precisely to you – allowing it to snap over your upper and lower dental arches snugly. A metal hinge connects the two pieces and allows the lower jaw to be eased forward – keeping airways open to reduce or eliminate interruption to sleep and preventing snoring.
Request Your Appointment
We look forward to having you here, whether you're a first-time patient or you already know us.
Call Us Now